IYA Residential The residential, held in April each year, is a weekend of fun, activities, workshops and classes for all members and friends of the IYA.
IYA Residential April 2018 13
– 15 April 2018, Teach Bhride, EC, Tullow, Co. Carlow.
More details to come soon.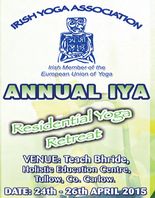 Past Events
IYA Residential April 2017

21 – 23 April 2017, Teach Bhride, EC, Tullow, Co. Carlow. Application form click on image below.



IYA Residential April 2016
15 – 17
April 2016, Teach Bhride, EC, Tullow, Co. Carlow. Application
form click on image below.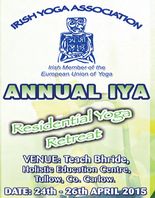 IYA Residential April 2015
24 – 26 April 2015, Teach Bhride, EC, Tullow, Co. Carlow. Application
form click on image below.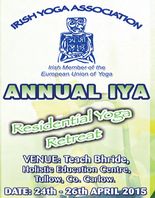 IYA Residential April 2014
4 – 6 April 2014, Teach Bhride, EC, Tullow, Co. Carlow. Application
form click on image below.
Daily program >>
Some photos of the weekend is available in the gallery. Click
here to see
more >>

IYA Annual Residential Yoga Weekend 2013


Venue:
Teach Bhride, Tullow, Kilbride
26th – 28th
April 2013

Brochure and Registration Form

Poster >>

IYA Annual Residential Yoga Weekend 2012


Venue:
Teach Bhride, Tullow, Kilbride
27th – 29th April 2012

Brochure and Registration Form

Download >>



IYA
Residential 2012 Report


Download >>
The
residential weekend was a great success and well attended. Below are some photos
of the weekend and the timetable for the event as it happened. For all the
photos of the IYA Residential album visit the gallery.


IYA Residential
Timetable for the weekend


TimeTable.pdf
FRIDAY EVENING
4.30pm onwards Registration
6pm—7pm Evening meal
8pm—9pm Opening session (with some laughter yoga led by Iwona Kaczor)
SATURDAY MORNING
7am—8am
Meditation with Elena Agarkova.
"Smile, breathe and go slowly". Exploring how the simple act of breathing in and
out can be a genuine source of nourishment, healing and inner peace. Students
will be guided through a series of gentle mindful movements followed by a guided
meditation
Jala Neti & Pranayama with Monique Walsh.
Jala Neti is an ancient yogic cleansing practice. A small neti pot with warm
salted water is used to wash out the nasal passages. This helps to clear the
sinuses, leaving the head clear, aiding concentration and helping to balance the
nervous system. Some breath work and visualisation will follow.
8am—9am Breakfast
9.30am—11.30am YOGA CLASSES
Yoga 1. Yoga Moments with Adrienne Crowe.
With an open mind, we can explore many ways to bring yoga moments into
everyday situations. While data is loading on a computer, take the time to
stretch shoulders and spine; while the kettle is coming to the boil, some
"Desperate Dan" shoulder shrugs; while stuck in traffic, lateral movements of
fingers. Slip from the rollercoaster of life into the eternal presence of
peaceful mind between one breath and another
Yoga 2. A somatic approach to Yoga with Katherine Smits.
The somatic approach allows us to explore and open to the internal sensations
and feelings in our bodies, as the body responds and organises itself during a
series of postures. We work slowly with focus and ease. Through alignment,
relaxation and breath work we experience the myriad of sensations alive in our
bodies and observe deeply what is happening at the present moment.
Yoga 3. Engaging the basics to strengthen your practise with Miriam Brady.
12noon Walking Meditation with Breda Tallon
1 pm Lunch
SATURDAY AFTERNOON
2pm—4pm WORKSHOPS
1. The Magic Roller with Gay Blake.
This is one of Dr. Feldenkrais' inventions "for the achievement of
functional integration", brilliant in its profound simplicity, and used in his
private lessons. You will be shown how to make your own magic roller which will
become a faithful friend, giving comfort to a tired or aching back without
effort and will lead it to a more upright alignment. Rollers provided.
2. Magic Maps & Vision Boards with Caroline Barry.
This workshop is all about taking time out of life to sit and think about
what you might need, how you might like to change direction in your life or what
you want to call towards you. It is a fun workshop where we build vision boards
or magic maps to find our central needs and aspirations.
3. Ayurveda & Yoga for daily living with Elena Agarkova.
In this workshop you will learn the basic Principles of Ayurveda, define
your unique constitution (Prakriti dosha) and current imbalances (Vikrutti dosha)
and learn about the art of daily living. You will sip ayurvedic teas, taste the
magical Chyavanprash (herbal jam) and learn secrets to keep you healthy,
balanced and at peace.
4.15pm—5.45pm COMMUNAL WORKSHOP
A sacred dance session led by Therese Aherne
Step into the light with love. Therese will lead a series of gestures and dances
from the Sacred Dance and meditation des Tanzes tradition. Through the dance and
movement we will connect with the divine light that is at our source.
6pm—7pm Evening Meal
8.30pm Social Evening
SUNDAY PROGRAMME
As Saturday morning to 12 noon.
12 noon—1pm Closing workshop
1pm. Lunch.
Checklist
1. Please bring your Yoga mat, cushion, blanket, any blocks and belts you
have and a neti pot if you have one. (neti pots will be available for sale in
shop)
2. Please check if you have notified us of any special dietary requirements.
3. The balance of the cost of the weekend to be paid on registering when you
arrive.
4. Driving directions are available at www.teachbhride.com/contact.php.
Teach Bhride is located in the grounds of the Catholic Church in Tullow so look
out for the pointed steeple when you enter the town.
Breda Tallon mobile 087 2227324 Monique Walsh mobile 087 9033762
Bredatallon@gmail.com
moniquew@eircom.net