Teacher Training Course >>       Deepening the Practice >>       Post Graduate Course >>       CPD Training >>       Residential >>       Tutor Training >>



DTP provides a Step Up course for Yoga practitioners who might be considering doing the TTC, but are not quite ready yet, or Teachers who wish to sharpen skills before attempting a Post Grad course.  Would you like to deepen your practice and understanding of Yoga?
Explore various Relaxation techniques
Breath Awareness & Meditation
Deepen your Posture Work
Delve into Yoga Philosophy
Understand your body through basic Anatomy.
Dates: One Saturday per month for 6 months. Various locations throughout Ireland.
Certificate of Attendance on completion of all 42hours from the Irish Yoga Association

---
IYA Deepening the Practice Jan till May 2017.
Would you like to deepen your practice and understanding of Yoga?
• Learn how to sit for Meditation
• Explore various Relaxation techniques
• Become more Breath Aware
• Deepen your Posture Work
• Delve into Yoga Philosophy
• Understand your body through basic Anatomy
Dates: Jan 14th, Feb 11th, Mar 4th, April 1st, April 29th
Times: 9.30am – 4.30pm each Saturday
Venue: St. Peter's School, Lucena Clinic, 59 Orwell Road, Rathgar, Dublin 6
Cost: €60 per day – discount for payment made in 1 instalment
Certification: Certificate of Attendance on completion of all 30 hours from the Irish Yoga Association
Contact Joan: 087- 4130191 joan.mcgreevy@gmail.com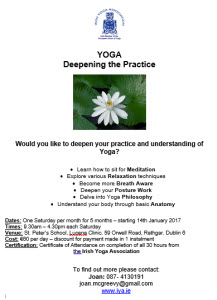 ---
Past Events
IYA Deepening the Practice Course Rathgar, Dublin 6
Starting 13th February 2016, for 5 months, 9.30am to 4.30pm.
St. Peter's School, Lucena Clinic, 59 Orwell Road, Rathgar, Dublin 6
Contact Monique: 087- 9033762 Email: moniquew@eircom.net