Teacher Training Course >> Deepening the Practice >> Post Graduate Course >> CPD Training >> Residential >> Tutor Training >>


IYA Continuous Professional Development Training
In line with the EUY requirements all IYA teachers commit themselves to complete a minimum of 15 hours of CPD per year. The IYA attempts to organise a variety of topics throughout the year, covering all aspects of yoga. These days / weekends are open to everyone, not just teachers, so the information, experience & health benefits can be shared by all.

---
IYA AGM 21 September 2019.
Annual General Meeting and Yin Yoga Class. Venue: Springfield hotel, Leixlip.
Contact: Monique 087 9033762 Moniquew@eircom.net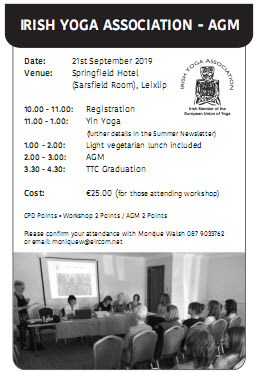 ---
IYA Yoga Teacher Refresher Residential Fri 22 Nov to Sun 24 Nov 2019
A weekend of Kriyas, Bandhas, Backbends, Twists, Inversions, Pranayama, Meditation, Relaxation and fun!
Date: Fri 22 Nov to Sun 24 Nov 2019. Cost: €280.00. Venue: Teach Bhride, Tullow,
Co. Carlow. To book please contact Gabi 086 3796776 yogabi@roottolight.com
or Miriam 087 6545631.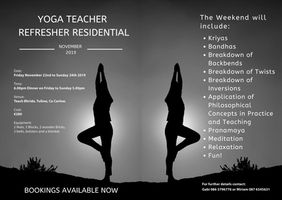 ---